You have reached the newly updated website of Fiona and Keith McColl's Junior Tour, now known as The Claret Junior Tour. All content on this website is the acquired property of The Claret Junior Tour.
*Disclaimer – Please be advised that our events should NOT be confused with any other Junior Tour referring to itself as The Highlander Junior Tour. We are no longer involved with any golf tour bearing that name. We apologize for any confusion caused by this and wish you to be aware that we, and they, both take a VERY different approach to Junior Golf Development. We do not want anyone to confuse both or believe we are in any way similar in what we offer. If you have questions and want to know the key differences we welcome the opportunity to discuss these points. Please email me personally at keithcmccoll@gmail.com
*IMPORTANT* Disclaimer: We wish make it very clear that while our own personal background(s) and golf industry experience were predominantly gained through working in the golf industry in St. Andrews, Scotland we do NOT have any association, nor are we in any way representing or enjoying any business relationship with, any other golf industry organization from, or based in St Andrews, Scotland including, but not limited to, The R&A (The Royal and Ancient Golf Club) or St Andrews Links Trust.
Fiona and I are both thankful and personally grateful to have enjoyed a long working association with both of these organizations in our time prior to our arrival in the USA and we hold these Iconic golf entities in the highest regard possible. We would never wish to, or expect to, in any way benefit from any suggestion to the contrary and we hope this disclaimer makes that abundantly clear to our own clients. If you require any further clarification on this point please email me personally at keithcmccoll@gmail.com
Welcome everyone to our brand-new look, a fresh new 2022 season and a commitment and promise from Fiona and I that it is our intention to make this season our best one yet!
The latest logo might be a little different to last year but we think it does a great job of reflecting the things that we do a little bit different from others and we think it captures well our own history in golf and the great game itself, first played in Scotland more than 600 years ago! 
For many we will always be THE Highlanders. The name originally came about as it reflects both our own personal birthplace and that of the game. Those of you who know us already will know we are fiercely proud of the fact that our ancient game began in Scotland almost 600 years ago. We are also extremely proud to now call Florida and the USA home and we think there really is no better place to be living and working, with our junior golfers, to help the future of our great game to thrive.
Over the last couple of years, as the original Highlander Junior Tour, we are pleased to recognize that we've managed to gain a bit of a reputation in junior golf for being a little different. 
We hope, if you've had the chance to play in any of our major championship events, that you enjoyed the unique atmosphere created by our award-winning bagpiper who plays as each of our major championship attending competitors completes the final hole of play. As you will see from our new logo above we have clad our bagpiper in the deep red Claret and Yellow Tartan of the ancient Stewart Clan who originate from the Highlands of Scotland . This is Fiona's family Clan and we are pleased to recognize it in our new logo.
Bagpipes and golf are an ancient and loved combination by many and our new branding now reflects this fact.
While we do of course hope that you like the logo we've come up with, our 2022 season, is really only about ONE thing. Junior Golf, and providing you, once again, with the very best tournament opportunities at great and supportive venues that will allow you to challenge yourself as a young golfer and develop into the player you would hope to be. Some of those venues will be regular existing ones from 2021 but we are already working hard to ensure we can bring you lots of new venues to play in the year ahead!
Some things will be as before. All of our single day 18-hole events will continue to attract ranking points from GJGR (Global Junior Golf Rankings) and our 36-hole events will attract ranking points from both GJGR and JGS (Junior Golf Scoreboard). There will be some changes made to our operation this year BUT rest assured though we are not planning on changing the things that work well, only improving those tournament day things that we think need improved and freshened up!
Over the last two years we've made some great friends and we've enjoyed watching some incredible junior golf with you and your junior players. We have SO many great memories and we are very, very proud of each and every young player who shows immense character and spirit to compete in what is arguably THE toughest sport of them all!
We do hope you will join us once again during 2022 and allow The Claret Junior Tour to play our part in your junior players development as each of them takes their next step on their personal golfing journey.
We are open 24/7 here for player registrations. Please check back often and save the website link we will send you as we add to this list over the next few weeks. Thank you for your support.
Keith and Fiona McColl
---
The Lopez Legacy 36-Hole Championship of 2022
This course is LPGA Hall of famer, Nancy Lopez's first course design and quite a tribute to her golfing skills. Legacy is designed for all skill levels and is built on the rolling terrain of Marion County. Many of the holes are landscaped with live oaks and water.
**IMPORTANT NOTE: FSGA/FJT PLAYER STEP EXEMPTIONS WILL BE AWARDED TO PLAYER FLIGHT WINNERS AGED 13 and OVER IN THIS TOURNAMENT**
When: Saturday 27th and Sunday 28th August, 2022.
Start: Tee Times from 12.00 pm
Where: Lopez Legacy Country Club, The Villages, Florida
Details:36 Hole Stroke Play Competition (Flights classed by age)
Member's entry: $70 inc. range/warm up balls.
Alumni/Senior entry: **18-21 Seniors are invited to play this event in a separate senior player only flight. $70 inc. range/warm up balls**
Non-member's entry: $85 inc. range/warm up balls.
REGISTRATION CLOSES ON THURSDAY 25th AUGUST AT 9PM. IF IT IS POSSIBLE TO INCLUDE YOU AFTER THIS TIME A LATE FEE OF $20 WILL BE APPLIED.
---


Juliette Falls GC is a venue we are VERY excited about! As many of you know already we strive to get the balance right between revisiting favorite venues and we are always cautious when adding new venues to our existing rotation. Sometimes there are venues that just present themselves and when they do you just HAVE to go and play them, Juliette Falls is unquestionably one of those and having had the chance to see it in all its glory we think that our Claret Junior Tour players are going to LOVE every minute of this one!
We might not be heading there until September but already its proving popular so save the date for this VERY special award-winning championship venue and register NOW!
When: Saturday September 10th, 2022. Tee Times from 12.30 pm
Where: Juliette Falls GC 6933 SW 179th Ave Rd. Dunnellon, FL 34432
Details:18 Hole Stroke Play Competition (Flights classed by age)
Member's entry: $65 inc. range/warm up balls and shared cart rental (2 players per cart)
Non-member's entry: $80 inc. range/warm up balls.
Alumni/Senior entry: **18-21 Seniors and former junior players are invited to play this event in a separate senior player only flight. Entry : $65 inc. range/warm up balls**
REGISTRATION CLOSES ON THURSDAY 8th SEPTEMBER AT 9PM. IF IT IS POSSIBLE TO INCLUDE YOU AFTER THIS TIME A LATE FEE OF $15 WILL BE APPLIED.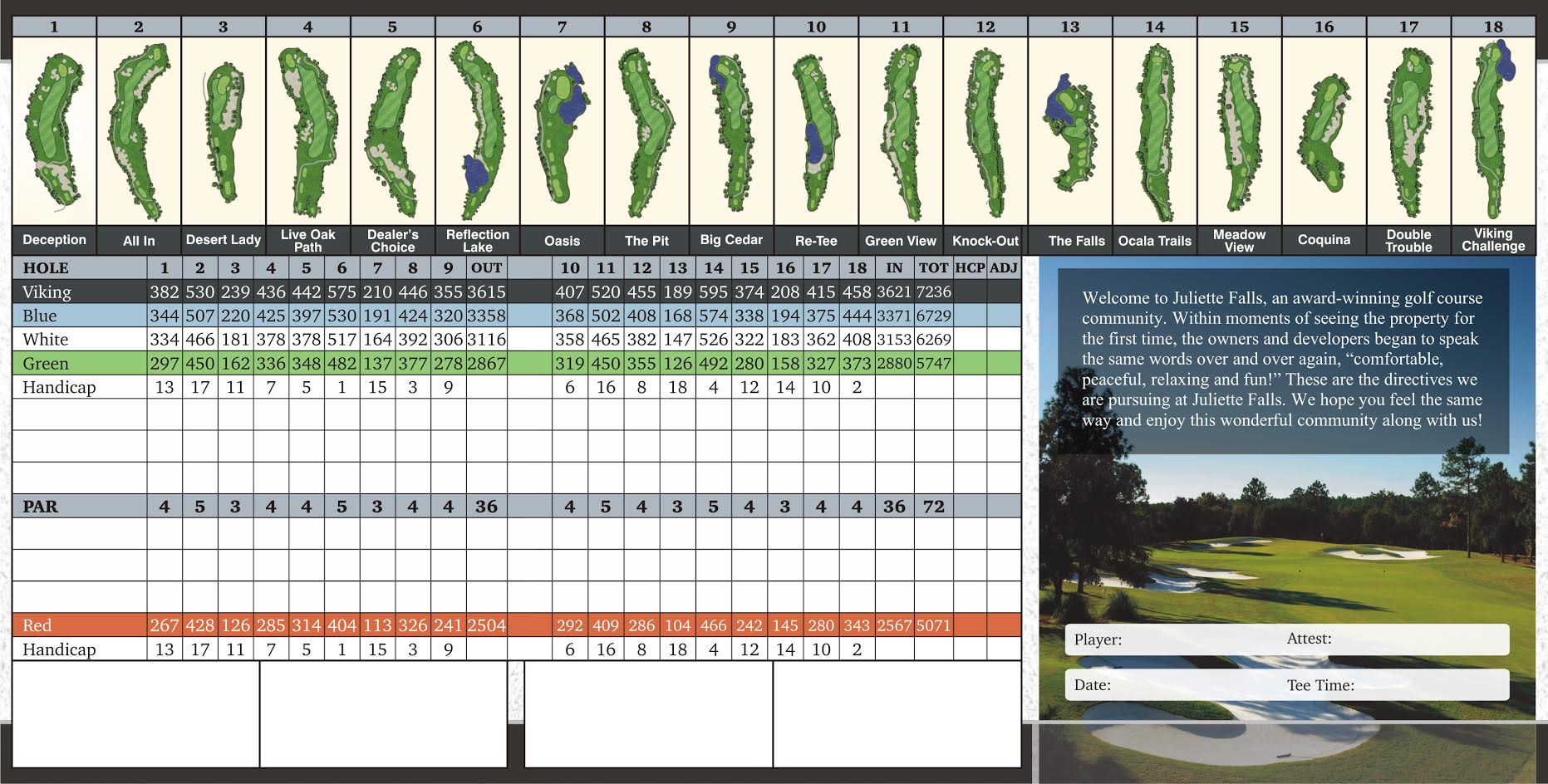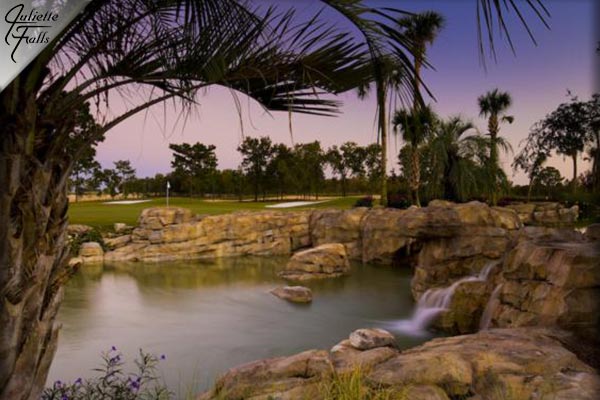 ---
Latest News